Olympus Zuiko Digital 50-200 mm f/2.8-3.5 SWD
Olympus markets a broad series of Zuiko Digital lenses designed for its 4/3 DSLRs. When Olympus introduced the E-M1 Micro 4/3 camera in 2013, it also announced that the company would stop introducing new 4/3 DSLR bodies, but would continue selling its 4/3 lenses.
Since Olympus started making Micro 4/3 cameras, it had been possible to use 4/3 lenses on Micro 4/3 bodies via an adapter (initially sold both by Olympus and Panasonic, and subsequently copied by Chinese companies and sold mainly on eBay). This adapter provides electrical couplings for the lens, and in principle allows all electronic functions of the lens, including autofocus (AF), aperture control, and reporting the lens type and settings to the camera for recording in the image metadata. How well this works in practice is discussed below.
4/3 to Micro 4/3 adapter
The Olympus 4/3 to Micro 4/3 adapter is now in its third version, with added dust and moisture seals. All Olympus and Panasonic versions are functionally identical in all other respects. Opinions vary on the mechanical strength and reliability of the different versions. While the first Olympus and Panasonic versions are generally regarded as well made, opinions on subsequent versions are often less flattering. I own and use only the Panasonic DMW-MA1 (Figure 1), which has never been updated by Panasonic and, except for its gray color, should be identical to the first Olympus version. All Olympus versions are black, and (if these things matter to you) are a better cosmetic match for Olympus 4/3 lenses than the gray Panasonic adapter, but also tend to be more expensive (both new and on the second-hand market).
4/3 to Micro 4/3 adapters are "dumb" accessories and have no updatable firmware. They are not listed when the E-M1 displays the camera, lens and accessory firmware versions.
4/3 lens system
The 4/3 lens system is quite large, and currently contains 18 zooms and 5 primes made by Olympus and Panasonic (the latter makes only 4 of these lenses, all branded Leica). Focal lengths currently range from 8 mm fisheye to 300 mm long telephoto. This focal length on 4/3 and Micro 4/3 has the same field of view of a 600 mm on full-frame or a 450 mm on APS-C. Unlike other lens systems like Nikon and Canon, 4/3 currently has no higher focal lengths. The Sigma 300-800 mm f/5.6, now discontinued, is probably the longest focal length ever made for 4/3.
Years ago, Sigma used to market a number of lens models in 4/3 mount. These were not specifically designed for the 4/3 format, and were instead the same full-frame and APS-C lenses available in several other mount types. Samyang is making several 4/3 lens models without internal electronics and selling them under different brand names. Like Sigma's, the optics of these lenses are not specifically designed for the 4/3 format. Samyang apparently is not a member of the 4/3 consortium, and it may be for this reason that its products are not listed on the 4/3 web site www.four-thirds.org.
The 4/3 lens system currently contains both consumer-grade and professional-grade lenses. The professional 4/3 lenses include a few remarkable Olympus models, like the 14-35 mm f/2, 35-100 mm f/2, 50-200 mm f/2.8-3.5, 90-250 mm f/2.8 and 300 mm f/2.8. Olympus groups its 4/3 lenses in Super High Grade, High Grade and Normal Grade series. Super High Grade includes, with one exception, f/2.8 or faster lenses, and constant-speed zooms. The 50-200 belongs in the High Grade series and loses half a stop at the telephoto end, but is rather similar to the Super High Grade series in optical quality and mechanical construction. The criteria used by Olympus to separate High Grade lenses from Normal Grade ones are not immediately obvious. I prefer a simpler classification into professional-grade, designed to satisfy the needs of professional users and advanced amateurs, and consumer grade, which in some cases may be good enough to be used by pros but are not built to be treated like a professional lens (i.e., used day in and day out, without needing special attention and without wearing out after a year or two of intensive use).
The latest firmware update for the 50-200 SWD is version 1.1, released September 21, 2010. This update only contains improvements for shooting with 4/3 DSLRs, but it may be a good idea to get it even if planning to use this lens only on Micro 4/3 cameras, just in case. This update, as well as updates for a couple of other lens models, were released in occasion of the introduction of the Olympus E-5 camera. These were the last updates for any 4/3 lenses. No updates were introduced on the release of the E-M1, in spite of this camera being specifically designed to use 4/3 as well as Micro 4/3 lenses. There is no sign of 4/3 updates coming in the future, either. 4/3 lenses can be updated while mounted on Micro 4/3 cameras with an adapter.
No new 4/3 lens models have been introduced for several years. The existing models continue to be sold, but it is not known which models are still actually in production, and how many are sold. Both Olympus and Panasonic have been very slow and cautious in introducing professional-grade Micro 4/3 lenses. Some of their Micro 4/3 consumer lenses, like the Olympus 12 mm F/2 and 75 mm f/1.8, are very good, but most are nothing to write home about. However, it is clear that Olympus is concentrating on the Micro 4/3 lens system, and that the 4/3 system's days are numbered.
4/3 lenses on Micro 4/3 cameras
Early adopters of Micro 4/3 cameras quickly discovered that AF with 4/3 lenses was impossibly slow. Hopes for a Micro 4/3 camera capable of usable AF with 4/3 lenses rose with the announcement of the E-M5, but were quickly dashed by its actual AF performance with these lenses. To put it simply, 4/3 lenses are not designed to AF with contrast-detection AF systems. Things changed with the introduction of the E-M1 and its hybrid phase- and contrast-detection AF system. Firmware updates of this camera further improved AF with 4/3 lenses. The general opinion is that AF with the E-M1 and 4/3 lenses is slightly slower and slightly less reliable than on the E-5, the latest 4/3 DSLR, but comparable to the next-to-last 4/3 generation of DSLRs. Some sports, as well as subjects like birds in flight, remain problematic with 4/3 lenses on the E-M1, but even the best Olympus 4/3 cameras have never been able to match the AF performance of the champions found among Nikon and Canon DSLRs. AF performance of Micro 4/3 cameras, even with their native Micro 4/3 lenses, is perhaps comparable to the AF performance of average consumer-class DSLRs by Canon and Nikon of a few years ago, and lags perhaps 5-8 years behind the AF of professional DSLRs. This does not mean that the E-M1 is trash: 5-8 years ago, photographers were very happy with their top-of-the-line DSLRs, and E-M1 users can now get a similar AF performance and a better image quality in a much cheaper, smaller and lighter camera.
An interesting consequence is that 4/3 lenses on the second-hand market, although not as abundant as Canon and Nikon ones, tend to sell for reasonable prices. These prices should continue to fall if Olympus expands its range of professional-grade Micro 4/3 lenses. Since both Olympus and Panasonic are slow in introducing professional-grade Micro 4/3 lenses (only one or two models per year for each brand), many E-M1 users can look at 4/3 lenses as a viable alternative. Future Olympus and Panasonic Micro 4/3 bodies with on-sensor phase-detect AF, most likely, will perform even better with these lenses.
Which 4/3 lenses?
Not all 4/3 lenses are interesting for Micro 4/3 camera owners. Native wideangle and fisheye lenses for the Micro 4/3 format, including the Olympus 7-14 mm f/2.8 announced for 2015, cover this range with several prime and zoom alternatives. There is no need to use 4/3 wideangle lenses on an adapter, unless you already happen to own one of these lenses.
The medium range of focal lengths is also well covered by current Micro 4/3 choices. The professional-grade Olympus 12-40 mm f/2.8 and Panasonic 12-35 mm f/2.8 satisfy the needs of most users, and several faster primes are available in this range. There is no good reason to resort to 4/3 lenses, unless f/2 zooms are indispensable.
The Micro 4/3 lens system, on the other hand, at present lacks long telephoto lenses of professional quality. With the exception of an announced Olympus professional-grade 300 mm f/4, no Micro 4/3 professional-grade lens, available or planned, exceeds a rather modest 150 mm. Both Olympus and Panasonic have Micro 4/3 consumer-grade zooms reaching 300 mm, but they are not satisfactory for professionals or advanced amateurs because of limited speed, unexceptional image quality and so-so AF performance. The best reason for using one of these zooms is when weight must be kept to a minimum, and the choice is between a picture that clearly shows its limitations when enlarged, or no picture at all. A similar 75-300 mm lens is available in the 4/3 system, but the image samples and opinions of users do not allow one to decide whether it is any better than the Micro 4/3 ones.
Olympus recently introduced a 40-150 mm f/2.8 of very good quality, and Panasonic announced a 150 mm f/2.8 prime of questionable usefulness (since the Olympus 40-150 is clearly more versatile). 150 mm on the Micro 4/3 format cannot be regarded as sufficient for bird and wildlife photography. A 1.4x focal length multiplier recently announced by Olympus, on a 150 mm f/2.8 lens, gives a still relatively modest 210 mm f/4. The planned Olympus 300 mm f/4 is interesting, but one will still be forced to carry also a shorter telephoto zoom to fill the gap between this 300 mm and a medium-range zoom.
This is where 4/3 lenses can be useful. The Olympus 90-250 mm f/2.8 and 300 mm f/2.8 are in the 3 kg class, so they must always be used on a tripod (or at least a monopod) that adds another 1-4 kg. I am more interested in a lens in the 1 kg class, that I can carry around a whole day in an ordinary camera backpack and does not exceed the meager carry-on limits on intercontinental flights. A lens in this class is easy to use hand-held in good light. Among 4/3 and native Micro 4/3 lenses, the Olympus Zuiko Digital 50-200 mm f/2.8-3.5 SWD is pretty much alone in this class.
The potential usefulness of this lens is further enhanced by the availability of two Olympus teleconverters designed for use with 4/3 professional-grade lenses. The 1.4x teleconverter, as usual, reduces lens speed by one stop, and the 2x by two stops. Unfortunately, there is no 1.7x teleconverter, which could be chosen as a compromise between the two extremes. With the 1.4x teleconverter, the 50-200 becomes a 280 mm f/5, still capable of good AF. The 2x teleconverter yields instead a 400 mm f/7, slightly beyond the limit at which phase-detect AF becomes unreliable. Some users of the 2x teleconverter have indeed complained of sluggish AF with the 50-200.
Olympus 50-200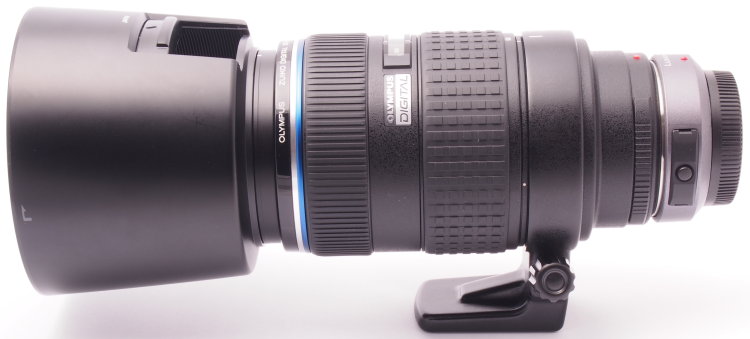 The Olympus 50-200 was produced in two versions. The first has an ordinary AF motor and a completely black barrel (no silver-and-blue ring near the front). The second is marked SWD (Supersonic Wave Drive), which is equivalent to the modern Canon and Nikon AF systems. On this page, I discuss only the SWD version, which is known to AF faster than the older version on 4/3 DSLRs. The SWD version has been repeatedly praised in reviews for its excellent image quality and build quality. Several reviews also comment on AF with this lens being fast on the Olympus E-M1 (once the proper settings are used). See for instance:
The general conclusions of these reviews are that image resolution and contrast remain very good in the image center at all focal lengths. At the telephoto end, the image slightly degrades in the peripheral regions, but not significantly in the center. Image quality is best at f/5.6 but is excellent also fully open. In consumer-grade zooms, image quality usually degrades across the whole frame at the longer focal lengths, and when the aperture is fully open. This confirms the professional quality of the 50-200 SWD. I don't know how the older non-SWD version of the 50-200 compares with the SWD in these respects.
Several posts on bulletin boards report conflicting opinions on the AF performance of the E-M1 with the 50-200. Hardly surprisingly, reports of poor performance are especially common with the 2x teleconverter. With the 1.4x teleconverter, of without teleconverters, a commonly mentioned fact is that AF performance is very dependent on the camera settings.
Get the 50-200 now, or wait for native Micro 4/3 pro lenses?
The half-stop loss of speed at the highest focal length of the 50-200 is not so different from a constant f/2.8 speed, and is compensated for by the moderate weight of this lens (just under 1 kg). The 50-200 and the EC-14 4/3 teleconverter replace the Panasonic 100-300 with its additional Roesch Feinmechanik tripod shoe and add about 600 g to my backpack.
The announced Olympus 40-150 mm f/2.8 for Micro 4/3 is a more formidable adversary to the 50-200 than the Panasonic 100-300. It is difficult to choose between a lens that has been available for years and one only pictured on a web site. I can safely assume that the image quality of the coming Olympus and Panasonic professional-grade lenses will be exceptionally good. The Olympus 40-150 and its teleconverter will be available next year, and will cost twice as much as a second-hand 50-200 and EC-14 (or quite possibly three times). The 40-150 is certainly a very good and very attractive lens, with internal focus and zoom, and a truly professional build. However, the most important factor for me is that the 40-150 with teleconverter makes a significantly shorter telephoto than the 50-200 with EC-14, probably requiring also the purchase of a 300 f/4 when the latter will come out next year. In conclusion, I can have the 50-200 and EC-14 today, or wait up to one year for the 40-150, teleconverter and 300 f/4, pay four to six times more, and carry around almost twice the weight.
The 50-200 is the perfect complement to the Olympus Micro 4/3 12-40 mm f/2.8 Pro. I can zoom with my legs through the 10 mm gap of focal lengths between the two lenses. It is much less likely that I would be able to zoom with my legs to fill up the gap between 210 mm and 280 mm, especially when shooting water birds or dangerous animals. According to the saying, better an egg today than a chicken tomorrow. In this case, by choosing the 50-200 I think I chose the chicken today.
The rest of this page is based on my own use of the 50-200 with firmware version 1.1 on E-M1 with firmware version 2.0.
Olympus 50-200
This lens is neither small nor discrete. It is bound to attract stares if you are using it in public, although not as much as a super-telephoto lens for larger formats. Compared to the Panasonic 100-300 with Roesch Feinmechanik tripod shoe (Figure 4), the 50-200 plus 1.4x teleconverter plus Micro 4/3 adapter is twice as bulky. The front extends forward quite a bit when zoomed, and makes the lens front-heavy.
The lens shade is quite large, since it is designed for a focal length of 50 mm. However, this long and wide lens shade with a circular outline is a better protection against flare than a narrow and relatively short petal-shaped lens shade like those used by Sigma on many of their long telephoto zooms. A nice touch of the lens shade is a sliding door (facing upwards in Figure 2, but normally mounted facing downwards) to rotate a polarizer without removing the lens shade.
This lens is weather-sealed and uses an optical formula of 16 elements in 15 groups. Three of the elements are made from ED glass. Focusing is internal, but zooming substantially extends the lens length. The front of the lens has a 67 mm filter mount and does not rotate while zooming. The lens collar is solid, rotates freely when unlocked, and can be removed (with some effort) when the lens is not attached to a camera. I prefer to always leave it on. The tripod shoe has only one 1/4"-20 hole. An Arca-type plate must be attached to this hole for mounting into an Arca-type clamp and tripod head. As far as I know, there are no third-party lens collars with built-in Arca plate for this lens.
The focus ring is mechanical, not focus-by-wire as now common in Micro 4/3 lenses. It can be turned even when the camera is off (which shows the legacy of this lens, designed for use with an optical viewfinder). The distance scale indicates the distance both in AF and manual focus. The focus ring has soft stops at both ends of the focusing range (i.e., the distance scale stops turning but the focus ring can still be turned, albeit with a slightly increased friction). This gives a tactile feedback when you reach either end of the focusing range in manual focus. The focus ring does not turn during AF. There is no push-pull clutch to switch between manual focus and AF, nor any switch on the lens for this purpose. There are likewise no focus range limiter and no AF-lock button. The camera is electronically notified when the user turns the focus ring, and can be set to automatically switch to live view magnification and/or focus peaking when this happens.
This lens (or at least my specimen) shows no zoom creep when carried hanging down from a camera strap. There is no provision for attaching a strap to the lens shoe. This is not a very heavy lens and the E-M1 is most likely strong enough to carry the weight, but a lens strap in addition to the camera strap does have advantages in the field. For instance, it would allow the 50-200 to remain hanging from the photographer's neck while temporarily switching to a shorter lens, without forcing the photographer to stow away the 50-200 in a backpack. I intend to look for an Arca-type plate with a strong built-in eyelet for a strap. The ones I have seen so far have only thin aluminium alloy eyelets machined out of the same material as the plate, which I do not really trust.
Simple tests confirm that AF with the 50-200 on the E-M5 is hopelessly slow and awkward. Most likely, this also true of the E-M10 and all "lower" Olympus camera models. AF on the E-M1 with 50-200, instead, is responsive and clearly much better. Therefore, the choice of the 50-200 for the E-M1, based on price, weight and opinions of other users discussed above, seems pretty obvious. What remains to be examined are the general handling, image quality and AF performance of this lens when used on the E-M1, and the optimal settings of the E-M1 to get the best from this lens.
Olympus EC-14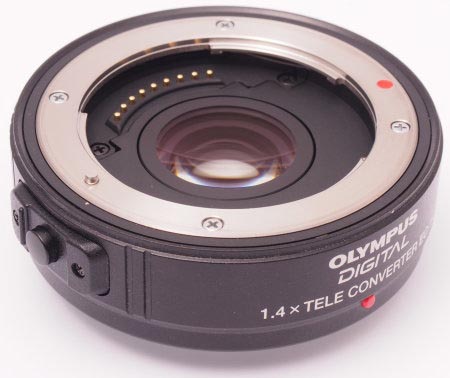 The Olympus EC-14 is a 1.4 x teleconverter specifically designed for professional-grade Olympus 4/3 telephoto lenses and zooms. It contains 6 optical elements in 5 groups, adds 22 mm to the length of a lens and weighs 168 g. According to the instructions, when used on fast lenses, the lens should be stopped down to at least f/2.8. Teleconverters work by magnifying the central portion of the image circle, and therefore they also magnify all the aberrations of the lens. They may also add aberrations of their own, as well as flare and loss of contrast. However, if the lens is excellent to start with, the degradation of image quality caused by a good teleconverter is modest, and the increase in focal length is a better trade-off than shooting without teleconverter and cropping the image in post-processing.
1.4 x teleconverters often give a good to excellent image quality, and reduce lens speed by one stop. TTL metering automatically compensates for this. 2 x teleconverters are much more likely to decrease image quality, usually to unacceptable levels unless coupled to exceptionally good lenses. They also reduce lens speed by 2 stops.
No 4/3 1.7 x teleconverter is available. Such a teleconverter would turn a 50-200 into a 340 mm f/5.6, potentially still interesting but probably at the borderline of acceptable speed and image quality. I have no direct experience with the Olympus 2x teleconverter, but a 400 mm f/7 does not sound very useful (although probably competitive with a manual-focus 500 mm f/8 mirror lens).
No firmware update for the EC-14 is available on the Olympus web site. The E-M1 reports this teleconverter as an accessory, and its firmware as version 1.0. The viewfinder and image metadata display the effective aperture and effective focal length with the teleconverter mounted (not the nominal aperture and focal length).
This teleconverter is designed with great care. It has an internal rectangular baffle (not visible in the above pictures) between optical elements. A high-quality lens and its lens shade are optimized to produce an image circle just sufficient to cover the sensor with minimal vignetting. On the other hand, a teleconverter may enlarge the image circle of the lens beyond its original diameter, and cause light to spill onto other parts of the camera interior, potentially causing reflections, flare and loss of contrast. The baffle in this teleconverter prevents this problem.
Olympus 50-200 and EC-14 in practical use on E-M1
This combination works very well in practical use. AF (both in continuous AF and single AF mode) is fast in good light and also in moderately overcast conditions.
An important matter to discuss is how AF performance of the 50-200 + EC-14 at 280 mm (effective) compares against the Panasonic 100-300 at 300 mm. I can only make a qualitative comparison based on my experience with both lenses. The Panasonic 100-300 often struggles with AF, especially in overcast weather. Using the correct camera settings for a given situation (see below) does improve AF performance with both lenses. However, I find the AF performance of the 50-200 invariably better than the Panasonic 100-300. I was not able to test the 50-200 with a 2x teleconverter, but the opinions of other users do suggest that this combination may struggle with AF. This is hardly surprising, since the effective speed at maximum zoom becomes f/7, which is higher than the f/6.3 limit for reliable AF.
The color rendition is very good in my subjective opinion, and I saw no significant flare even in high-contrast, back-lit situations where direct sunlight hits the front element of the lens. Bokeh has been criticized by other users as being poor with "busy" backgrounds just out of focus. I have not yet seen examples of this problem, although small waves around water birds do seem to look slightly "odd", possibly with a touch of nisen boke (which, properly speaking, is exhibited by mirror lenses, but might arise also from overcorrected spherical aberration). This problem can be lessened by using Picture Mode 3 (Natural Picture Mode). Any sharpening, on the other hand, is likely to worsen this problem. However, this lens does not need any image sharpening in post-processing, not even with the EC-14.
The following image samples are not post-processed, except for size reduction or cropping. The bird in the second row was walking briskly, and this image may show a slight motion blur and/or a slight failure of AF to track the movement. Image stabilization of course cannot do anything to compensate for motion of the subject.
The 50-200 is not parfocal while zooming. The change in focusing is substantial, and requires AF or manual focus to be re-acquired after zooming. This is not a problem in still shooting with continuous AF, but it does prevent sequence shooting while zooming in single AF. Because of the lack of parfocality, this lens should not be zoomed during movie shooting, unless continuous AF is enabled and zooming is slow.
Image quality with the EC-14 and at effective focal length of 70 mm is nothing short of excellent (Figure 5). A very slight image degradation is visible at 200 mm effective focal length. This is, however, visible only when inspecting 1:1 pixel crops. At higher focal lengths, the use of the EC-14 is obligatory with this lens, so there is nothing to compare it with.
In terms of real-world image quality, it is not really necessary to remove the EC-14 for shooting at 200 mm and lower focal lengths, unless the very best image quality is necessary. In the latter case, image resolution at 200 mm without EC-14 is truly excellent (Figure 6), but image stabilization is only partly successful in avoiding camera vibration and a good tripod and head are recommended.
Removing the EC-14 increases the lens speed by one stop and seems to make AF more reliable. The lens is also slightly shorter and better balanced without teleconverter.
In general, image quality in real pictures shot in the field, at all focal lengths with or without the EC-14, is substantially better than with the Panasonic 100-300 (albeit, see also the test below).
The 4 x zoom ratio is higher than average for a lens of this performance, and becomes a remarkably high 5.6 x with the addition of the EC-14 at high focal lengths. There are lenses with a higher zoom ratio, including the Sigma 50-500 mm (albeit no longer available for 4/3), but the 50-500 becomes rather soft between 400 and 500 mm, and is slower than the 50-200 at all focal lengths. Image softness is especially visible on small sensors like the Micro 4/3 format.
At the maximum focal length, the closest focusing distance of 1.2 m allows true close-up photography, especially with the EC-14. The last example in Figure 4 shows remarkably good results in these conditions. The focusing distance, apparently, is not recorded in the image EXIF data.
This lens is so good that ISO should be kept low in order to take full advantage of its image resolution. Images shot with this lens and EC-14 at 800 ISO are already slightly degraded by noise (and its correction by the E-M1). There is little or no visible difference, on the other hand, between 200 ISO and 400 ISO.
Test: Olympus 50-200 and EC-14, versus Panasonic 100-300
The results of a contest between a professional-grade lens and a consumer-grade lens are predictable. In this sense, such a comparison is not fair. However, in the lack of current professional-grade native Micro 4/3 long telephoto zooms, on Micro 4/3 there is nothing else to compare the 50-200 with. Of the two Micro 4/3 lenses that reach 300 mm, I only have the Panasonic 100-300. The Olympus 75-300 might or might not be optically slightly better. The samples I have seen (see also here) are not decisive. This lens, however, is even slower (f/6.7) at 300 mm than the Panasonic 100-300.
In my practical use of long telephoto zooms in wildlife photography, I am almost always shooting at the maximum focal length. Therefore, there is little sense in comparing lens performance at significantly lower focal lengths. In this case, I decided to compare the following lenses and settings:
50-200 at 200 mm, against Panasonic 100-300 at 200 mm. Both lenses were tested at f/5.6.
50-200 + EC-14 at 200 mm effective focal length (nominal 140 mm), also at f/5.6 effective (nominal f/4). The main question in this case is:

In the field, while shooting with the teleconverter at maximum zoom, I may decide to take a few shots with a shorter focal length. I might be tempted to quickly zoom back to 200 mm (effective) instead of removing the teleconverter. Can I get away with this in terms of image quality, or must I always remove the teleconverter to get a visibly better image quality?

50-200 + EC-14 at 280 mm effective focal length, against Panasonic 100-300 at 300 mm. One of the questions is whether the slightly longer focal length of the Panasonic 100-300 makes any practical difference. Both lenses were tested at effective f/5.6. This is fully open on the Panasonic 100-300, which is not optimal for this lens but often forced by the available light and by the necessity of shortening exposure times.
The subject was illuminated with an 80 W fluorescent photo lamp for accurate focusing. Focusing was manual at maximum magnification on the LCD screen while using focus peaking, to eliminate any imprecisions caused by AF. The subject was placed at a distance of about 6 m, which is reasonable for small bird photography with these lenses. The test was done indoors to avoid wind problems. Exposure in aperture-priority mode was by Metz 58 AF-2 electronic flash remotely controlled by the E-M1 for eliminating tripod vibration.
The different height of the tripod shoe in the different lenses caused a slight change in framing of the subject.
Test results
Depth of field at 5.6 is not great, and lower than the actual depth of the subject in the area used for evaluating image resolution. The results may be affected by slight focusing differences. Manually turning the focus ring of the 50-200 is less precise than the focus-by-wire of the Panasonic 100-300, because precision focusing with the latter requires a greater rotation of the focusing ring.
It is difficult to accurately focus the 50-200 with EC-14 at maximum zoom. Together with the general difficulty of seeing exactly what is in focus (despite using maximum viewfinder magnification and focus peaking), the required rotation of the focus ring is sub-millimeter sized. Focus peaking also does not seem to be very sensitive to minute focus changes. The same areas remain highlighted by focus peaking even when focus visibly changes at maximum viewfinder magnification. It should be remembered that focus peaking is apparently based on contrast detection alone, not phase detection. It is possible that the 50-200 is capable of better resolution, but manual focus cannot take advantage of this capability. The 100-300 is perhaps slightly easier to focus manually, but not by much, and this is countered by its slower optical speed.
The results, unlike what I expected, do not show substantial differences in image quality between the two lenses. At 200 mm the 50-200 has perhaps a small edge in image resolution and contrast over the Panasonic 100-300. Adding the EC-14 to the 50-200 and shooting at 200 mm (effective) causes a slight degradation in image quality, but this is visible only in 1:1 crops. Images with the EC-14 remain acceptable, so in a pinch I may just zoom down to 200 instead of removing the EC-14.
Image resolution with the 50-200 and EC-14 at 280 mm (effective) is slightly worse, and quite comparable to the Panasonic 100-300 at 300 mm. Contrast of the 50-200 and EC-14 remains better than the Panasonic 100-300.
The difference between 280 mm (effective) and 300 mm of the two lenses is hardly noticeable in the test pictures. It is quite possible that the real focal length of the Panasonic 100-300 at the 300 mm setting is close to 280 mm.
How do we reconcile these observations with my experience that, in the field and with natural light, the Panasonic 100-300 is obviously inferior to the 50-200? As far as the indoors test with manual focusing is concerned, the most likely conclusion is that accurate focusing is the main weakness in these conditions. In the field and with AF, instead, the main differences are that the Panasonic 100-300 invariably forces me to longer exposure times or increased ISO, and that the 50-200, with or without EC-14, is faster and allows a more reliable and more precise AF. The increased ISO with the 100-300 causes a degradation in image quality (see also the field tests of the 50-200 at 400 and 800 ISO in Figure 4), while unreliable and less precise AF drastically reduces the percentage of keepers. Therefore, the observed difference between the two lenses in the field is mostly due to these factors, rather than to an inherent difference in optical image quality.
With plenty of light, a solid tripod, a subject that does not move and accurate manual focusing, the Panasonic 100-300 would produce images as good as the 50-200 with EC-14. However, how often am I going to shoot in these conditions?
Using the right AF mode
The E-M1 allows a combination of single or continuous autofocus, with or without tracking. Combine this with the alternatives of single shot, slow burst or fast burst, and you have 12 possible combinations. Add the choice among 1, 3 by 3, or all AF areas, and you end up with 36 combinations. Choose between small or large AF areas and the combinations become 72. Several more settings that affect AF are discussed below. You need to find out and commit to memory which are the best and the second-best of these for your shooting style, or you will be hopelessly confused while trying to decide in a hurry in the field. Better still, you should program the combination that works best for you into one of the Mysets.
In my experience, continuous AF with a matrix of 3 by 3 AF large areas seems to be the fastest AF mode with both lenses, and most often results in a focus lock. It is not extremely sensitive to camera jitter, but may result in focus lock on the wrong things (on the background with very small birds, or on the bird's butt instead of head with larger birds).
Continuous AF with just one large active area is next best, if I have time to place the active area where the thing of interest is (usually, head or eye). This AF mode is quite often successful, but in this case the biggest risk is that movements of the subject or handheld camera may shift the subject out of the active AF area.
Single AF is not for me. I want the camera to keep the subject in focus while I follow it for up to a few seconds with the shutter half-pressed, until it is in the right position and doing the right thing.
AF with tracking is a hit-or-miss affair. Tracking often loses its target and follows the wrong thing, especially on "busy" backgrounds. I normally leave it off, because it used to give me few keepers with the Panasonic 100-300.
Bursts of multiple exposures may increase the chance of taking home a good shot. However, bursts in fast mode (up to about 10 shots/s) must be kept short because the E-M1 in this mode switches AF off after the first shot. If the subject is moving, only the first two-three shots have a chance of success, and there is no point in shooting a longer sequence.
Bursts in slow mode, on the other hand, keep AF working between shots, and have a better chance of success. I try to keep also these bursts short, because AF is always less reliable during burst shooting.
In conclusion, my favorite combination of shooting modes is:
Continuous AF without tracking
Correct focus has priority over shooting
Slow burst mode, 3 fps
3 by 3 array of large AF areas
and the second-best:
Continuous AF without tracking
Correct focus has priority over shooting
Slow burst mode, 3 fps
1 large AF area
I have the first of these settings programmed in MySet 1 and assigned to the A position of the mode dial. It is active whenever the dial is set to A, and remembered when the camera is off. I can switch to 1 AF area with the Super Control Panel. Before starting a sequence, I use the arrow keys and OK button to move the AF area(s) to where I expect the head/eye of the subject to be, depending on its orientation.
Additional AF settings
The E-M1 is one of the most highly configurable cameras available today, and several other settings affect AF performance. One of these is C-AF Lock. When set to Off, the camera immediately tries to refocus if the AF sensing area detects unfocusing. This may be caused by true movements of the subject, but may also be spurious information caused by the subject leaving the AF sensing area (often because of unsteady hand-holding), or by something else temporarily passing between subject and camera. The other values (Low, Normal, High) make the camera wait before trying to reacquire focus. High is the "stickiest", or slowest reaction. The appropriate setting depends on the type of subject and its movements. You may start testing with Off, and if you see that the camera tries to incorrectly refocus too often, use one of the other settings. With birds in flight, I would guess High is appropriate, to prevent the lens from racking all the way in and out as soon as the camera accidentally wanders away from the subject. With birds on the ground, Low or Normal may be suitable. With birds among swaying branches or tall grasses, my best bet is High (if AF is at all possible in these conditions). When shooting hand-held, Normal or High should reduce the effects of unintentional camera movements. With a good tripod and smooth moving head, and slowly moving subjects, Off or Low may be better.
AF performance is also affected by image stabilization (IS). I always use S-I.S. 1 hand held, and S-I.S. Off or S-I.S. Auto on a tripod. S-I.S. Auto is a reasonable choice if you don't want to bother changing this setting when alternating between hand-held and tripod. IS greatly helps to keep the image steady in the viewfinder while waiting for the right moment to shoot with the camera hand-held. Setting Half Way Rls With IS to On activates IS when the release button is half-pressed.
I also set [Burst] + IS Off to Off. This enables IS during burst shooting, which is a logical choice but slightly slows down the burst speed. The icon for [Burst] is multiple overlapping rectangles.
The number of shots per second in slow burst mode affects AF performance. AF attempts to keep focus between shots, but speeds higher than 4 fps don't leave enough time for AF to do its job properly. A slower rate gives more time for AF to re-lock on the subject between shots. The maximum rate in this mode is 6.5 shots per second. Choosing 3 fps gives a better chance to AF. In any case, with IS active, the maximum fps in slow burst is 3.5. It is also a good idea to disallow shooting when AF detects that the subject is out of focus, since it is better to take home a few well-focused images than a lot of out-of-focus ones.
Fast burst mode disables AF between shots. Therefore, with a fast moving subject, only the first one or two shots are in focus, and the rest are wasted.
Switching image inspection off (i.e., the last image taken is not displayed in the EVF or on the LCD screen) prevents interruptions while following a subject. Strictly speaking, this setting is not related to AF, but is very important to avoid interrupting one's work after the shutter is released.
Conclusions
The Olympus 4/3 50-200 mm SWD with EC-14 is so far the best long-telephoto zoom solution I tried with the E-M1. It outperforms the Panasonic 100-300 mm in all respects: image quality, lens speed, AF performance and percentage of keepers. The slightly shorter focal length of the 50-200 + EC-14 is not very significant in practice. The EC-14 in principle can be left on the 50-200 when zooming to shorter focal lengths without noticeable image deterioration. However, many settings affect AF performance of the 50-200 on the E-M1, and must be understood and used carefully.